Houghton News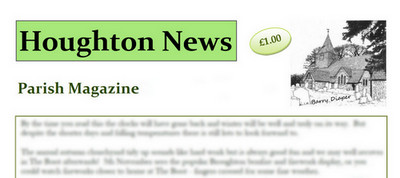 Houghton News is the village magazine. There are ten editions a year with double issues in July/August and December/January. Annual subscription - to have the magazine delivered through your letterbox - is £10.00.
Profits from subscriptions, single sales and advertising revenue go to All Saints Parochial Church Council (PCC), which initiated the magazine many years ago. It has had several different editorial teams and formats over the years. Its current A4 colour format is very popular, though during the Covid-19 restrictions the magazine is being published online only.
The Editors welcome items for inclusion in the magazine. Copy deadline is the 18th of each month and items should be emailed to [email protected].
Please click on the relevant month below to download a copy of Houghton News
Some pictures from the most recent magazine: